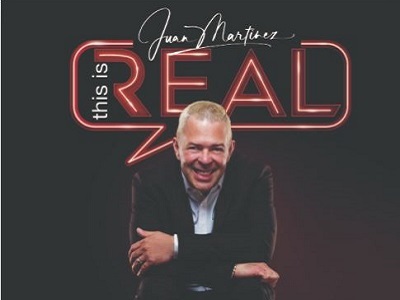 This Is Real is the broadcast teaching ministry of Juan Martinez, Senior Pastor of Get Wrapped Church in Spring Texas. Find us on the web at getwrapped.tv. Broadcasts released every Tuesday on major podcast platforms.
Show Links:
Sponsored By:
---
Juan Martinez has an Apostolic calling overseeing a few campuses and raising up leaders, Author, Radio and Television host, He is a true revivalist. His heart for the lost, broken and sick drives a passion for ministry for leading people to Jesus Christ. Since 2010, this God-breathed ministry has seen thousands of people say yes to Christ. Pastor Juan is founder of Wrapped in the Love of Christ, Love Live Lead Ministries and Founding lead Pastor of Get Wrapped Church.
Juan is an inspiring coach and engaging speaker with the world renown John Maxwell team. He has appeared on many televised programs , TBN Salsa, TBN, and CTN Vegas.and presents at conferences throughout the nation. He also hosts a radio program in Houston, Dallas, and Fort Worth Texas.
Co-author of an international best seller, Juan is a prolific author who currently lives in Houston Texas with his wife Ruthy. They have six children: Johnathan, Jay, Jonathan, Valery, Janina and Josh
To Learn more go to www.JuanMartinez.tv