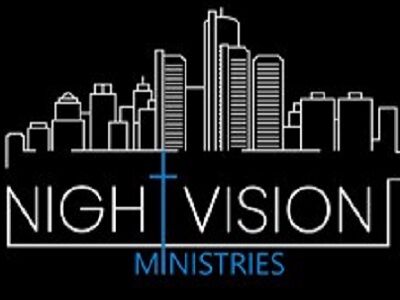 Prayer changes things. No one believed this more than Night Visions founder Pastor George Bogle. Every night, the Night Visions Prayer Team comes on the air seeking God's favor on your behalf, one person at a time, one prayer at a time. Each prayer is brought before the throne one petition after the other, Faithful to The Lord and to you.
If you're blessed by this life changing radio ministry please consider sending a generous donation, so Night Vision can continue on this station. Write to:

Night Vision
P.O. Box 39241

Detroit, Michigan 48239
Sponsored By:
---
Brother George Bogle, Pastor George is the eldest son of Night Vision founder Pastor Bogle. Raised in a Christian home under the tutelage of Pastor Bogle; George has been close to Night Vision since inception. At the age of 10 years, he was present for the very first broadcast in September 1967. George is the only member of the Night Vision Radio Team who is not an ordained minister. He believes this is God's will for now and considers it an advantage that helps him to better relate with the radio audience. George is committed to his spiritual walk and considers it a privilege to be working out his own salvation alongside Night Vision's listeners.
Pastor David Alvarez, David was invited to minister in music at Evangel Ministries church on Pardee in the summer of 2000. On the same day, he met with Pastor Bogle who opened a door for Pastor Dave offering him the position as a worship pastor. He also worked as NightVision Ministry's Media and Prayer coordinator. Pastor Dave is currently pastoring at My Father's House Church, a pioneering church currently meeting by Zoom gathering. Beginning Memorial Day, MFHC will host a Drive-In Church, located at 15151 Inkster Rd. Taylor MI 48180, a six acre property and future building site. MFHC is a house of worship dedicated to loving God with passion, prayer and by serving one another.
Pastor Gary Levi, Gary was raised under the ministry of Pastor Bogle from a boy. The brother of Sister Shirley Bogle, he started attending Evangel Church in the early 1960's. Pastor Levi worked with Pastor Bogle for more than a decade in both the early Mt. Clemens church and the House of Prayer ministry. He has also assisted with the Night Vision ministry since inception as Evangel Echoes and was ordained under Pastor Bogle. In 1978, Pastor Levi joined the Assemblies of God and began pastoring Shekinah Temple Assembly of God in Waterford, Michigan.