Wrestling with the Inner Man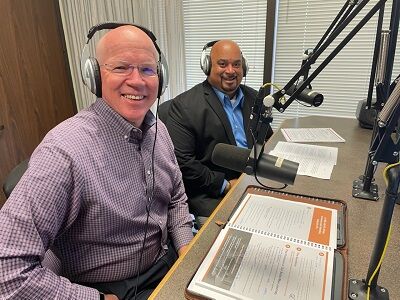 Welcome to Wrestling with the Inner Man with David Savage and Pastor and Evangelist Aaron Thomas. David and Aaron share a passion for Men's Ministry and Biblical Truth to help build Better Men for our society.

The show title is derived from the first fight we each face every day, the fight with our flesh. Do we listen to our selfish sinful nature or to our spiritual and divine nature guided by the Holy Spirit? Contact David or Pastor Aaron by Email or you can also call Pastor Aaron directly at (505) 435-0916.
Show Links:
---
David Savage
David is a retired energy executive but prefers to state his current employment status as receiving the biggest promotion of his life, now I only work for the top boss, God. David is a published author and member of Second Baptist Church where he has been leading a program called BetterMan in addition to promoting his recent book "The Savage Path: A Memoir of Modern Masculinity." He has been married to Kimberly for nineteen years and resides in the Katy area. Kim and David have four adult children. He also serves on the Board of Directors of the Brazos River Authority.
Pastor Aaron Thomas
Pastor/Evangelist Aaron D. Thomas, is a father of 5, and the proud husband of Mrs. P Michelle Thomas who he has been married to for 15 years. Pastor/Evangelist Thomas brought up in West Chester, Pa., moved to the Houston area from Albuquerque NM, in obedience to his Lord and Savior Jesus Christ and has been an active part of the community since he and his family touched down in Texas. Graduating from Therapon Seminary and Bible College with a Bachelor's in Theology, and pursuing his Masters. Pastor Thomas is the founder and director of P.E.A.C.E Outreach Ministry; which he and his wife established in 2012 to help restore men and women to their purpose in Christ, therefore restoring them to their purpose in life. Pastor Thomas is bi-vocational, serving in ministry, and he has been an employee of Comcast/NBC Universal for the last 10 years serving as a Marketing Account Manager. Pastor/Evangelist Thomas serves on the board of a couple of churches and God's Hand ministry and is always looking for opportunities to serve in his community, and to make a difference in the name of Jesus Christ.