All Peoples Church Bangalore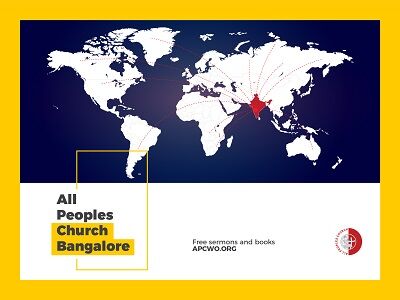 All Peoples Church Bangalore Radio brings to you the Word of God in the power of His Holy Spirit, equipping you to grow into Christlikeness and have impact and influence in your world for the Kingdom of God.
Show Links:
---
Ashish Raichur is senior pastor of All Peoples Church & World Outreach Bangalore, a church he pioneered in 2001. All Peoples Church has several congregations in Bangalore in addition to church plants around India. The outreach ministries of All Peoples Church include free sermons and books (apcwo.org/books) accessed online by people from 160 countries, and a Bible College serving students in 30+ countries (apcbiblecollege.org). Ashish has been preaching and teaching God's Word since the time he was 13 years old. By training he is an engineer, with a Master's of Science (M.Sc.) degree in Biomedical Engineering from the University of Medicine & Dentistry (UMDNJ) and Rutgers University, NJ, USA. He spent 18 years working in the IT industry, 13 of which was spent in running his own technology business (2001-2014) while also serving the Lord and pastoring the local church. From June 2014 he has been engaged in Christian ministry, full-time. Ashish and Amy were married in 1995 and they have two grown children.