Stain on the Brain - Crosswalk the Devotional - October 22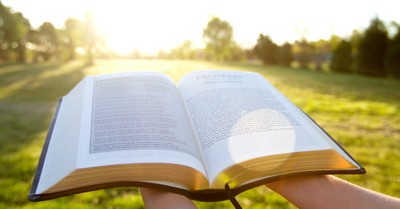 Crosswalk.com


Stain on the Brain
by Fred Alberti
I have hidden your word in my heart that I might not sin against you.- Psalms 119:11
I watched Caleb as he sat there in deep concentration just staring at the book. Finally, I asked him what he was doing. His response was one I had never heard before. He said, "I'm staining it into my brain."
He was memorizing Scripture verses for AWANA Club.
The thing is he knew what he was doing. He knew that he was trying to burn the words into his memory so he could pass on to the next challenge.
I like how today's verse applies to Caleb's staining power. The psalmist gives the reason why he is hiding God's Word. What is it? So that he will not sin against God.
The reason for Bible memorization is to help us to abstain from sinning.
Oftentimes we resist Bible memorization. Instead we choose to stain our brain with TV shows depicting adultery, murder, and obscenity. Then we get ourselves into a moral bind and we wonder how we got into that place. We shouldn't wonder. We should realize that what we choose to watch and/or memorize is what is going to stain into our brain.
"Oh, that sex scene isn't so bad, at least they muted the sounds."
"Why yes, the whole point of the show was that the husband didn't get along with his wife and had an affair. But at least he was able to get a divorce and the mom was able to keep the kids."
"Well, sure there was a lot of swearing but the story was great and the murder scenes were so realistic. Cinematography has really advanced these last few years."
Folks, these are stains. They will stain your conscience and your heart and those of your family.
What are you staining your brain with these days?
Intersecting Faith & Life: Spend some time this week with your family memorizing key scriptures about salvation, like Romans 3:23, Romans 6:23, Acts 16:31, and 1 Corinthians 15:3-4.
Further Reading
Why Memorize Scripture?
Teaching Memorization and Speaking Skills to Your Children
2 Timothy 3:16-17

Check out fantastic resources on Faith, Family, and Fun at Crosswalk.com!
The Characters of Christmas is a podcast created to help you take a fresh look at the Christmas story by getting to know the minor characters that played a part in Jesus' birth. It is the companion to Dan Darling's book "The Characters of Christmas: The Unlikely People Caught Up in the Story of Jesus."