7 Fun Date Night Ideas for a Valentine's Day In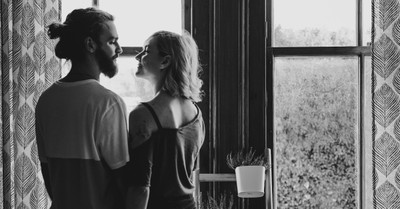 By Amanda Idleman, Crosswalk.com
Valentine's Day is right around the corner, and couples everywhere are anticipating special time together to connect. Circumstances can make going out a challenge or sometimes even impossible! Being stuck home does not mean you have to forgo this chance to do something special together. There are many fun and meaningful ways you can transform your home into a perfect date night oasis.
Your partner will appreciate your willingness to plan something special to do at home when the babysitter can't come, the budget is tight, sickness is going around, or whatever else may be getting in the way of you enjoying a night out on the town together!
Here are some fun and creative ways you can enjoy each other without leaving home!
1. Plan a Special Just-the-Two-of-You Movie Night
After all the kids are in bed, my husband and I love to cozy up together and relax with an easy-to-watch Date Night movie!
We usually plan ahead on these "at home dates" and make sure we have hidden away a "Mom and Dad only" special treat for us to split on the couch. Once all the kids are tucked away in bed, we can bring out our special snacks and turn on a flick to enjoy together, just the two of us.
This time to chill, not think too hard about life, and snuggle up a bit is a great way for us to connect when getting out of the house alone together is not in the cards. Recently some of our favorite Date Night Movies have been Shang-Chi and the Legend of the Ten Rings, Solo: A Star Wars Story, and we recently rewatched all the Matrix movies to catch up for the new movie they just released.
2. Bring Home Some Paint-Your-Own Pottery
Check out your local pottery studio to see if they offer to-go kits! These kits typically include a piece of pottery, brushes, and the paints you need to get creative at home together. There is something so relaxing about diving into an art project together. Make a charcuterie board, pour some drinks, and set up your art supplies on the kitchen table. Enjoy the time together snacking and creating, and enjoy your piece of pottery as a reminder of this special night spent making something special as a couple.
3. Create a Trivia Night
Who doesn't love a good competitive round of trivia? Here are a hundred random trivia questions to get you started. It may be counterintuitive, but somehow competing against one another will bring you both closer. If you are diehard fans of a specific show or franchise, let that be your trivia night theme, and prove who's the bigger fan.
Make the game interesting by leveraging a prize for the winner. It could be as silly as the winner getting to sleep in one day out of the week, breakfast in bed, or a special baked treat. Be as creative as you can to make trivia night a little more interesting.
4. Board Game Night
Pull out those dusty board games and have some fun playing all your childhood favorites with your spouse. Monopoly, Yahtzee, Scramble, and Catan are great if you want to have the chance to talk a little more between turns or a good old-fashioned card game.
This is a HUGE list of 2 player card games for you and your spouse to try out. Games help you have something to focus on other than the kids, the news, and what's going on at work. They provide a chance to laugh together and reminisce about how these games fit into your childhood.
Connect on game night through laughter and a little friendly competition. Add some dessert to the mix, and you will have created the perfect sweet night filled with laughter and fun.
5. A Fancy Dinner In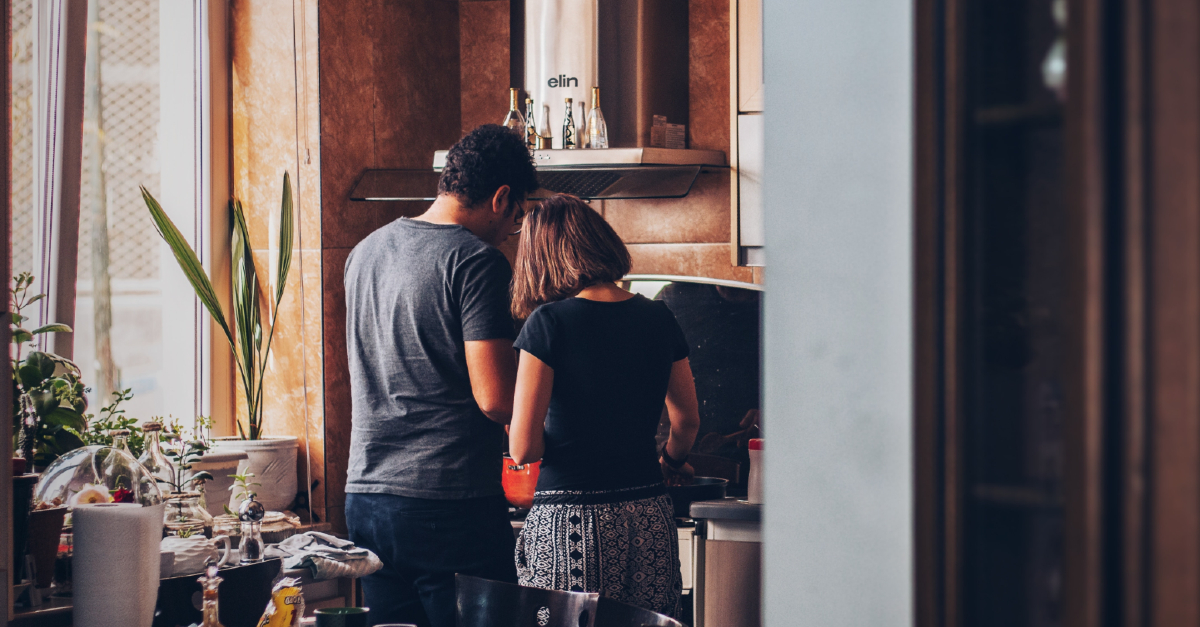 Photo credit: ©Unsplash/Soroush Karimi
One way to make dinner feel a little more intimate is to hold off eating together until after the kids are fed and in bed. Then prepare a special "grown-up" meal with some of your favorite foods to enjoy together.
Cooking together without your kids underfoot is a great way to unwind and get your creative juices flowing. Once dinner is prepared, get out those fancy dishes, light some candles, and take your time eating together in your home. Leave the dishes till morning and just for the evening pretend a wait staff will take care of the mess for you.
Focus on the Family has a great list of conversation starters if you have trouble finding things to talk about that aren't centered on our world's current crisis or your kids. Set this time apart to learn more about one another.
6. Dancing and Dessert
Looking for a tasty way to enjoy some endorphins? Then why not try chocolate and some dancing! Find a local bakery from which to pick up takeout and hide it until after bedtime. Choose a list of songs you can slow dance to in the kitchen. Light some candles, get a little dressed up, and you have created the perfect setting for romance to unfold.
If you guys enjoy baking, then choose something new to try making together, and enjoy the spoils of your work once the kids are asleep. Dessert can always be combined with any above suggestions (except maybe exercising together) to enhance an already fun night in.
If the weather is great, up the romance and make this Dancing and Dessert Night into a romantic backyard picnic with an outdoor dance floor! After swaying to the music, snuggle up on a blanket together to enjoy your cake and count the stars. Date nights help keep you close, especially when life gets full.
7. Enjoy Fun Snacks and a Puzzle
Choose a puzzle to complete together. Puzzles are an excellent relaxing activity that you can work on while still carrying on a conversation. Alongside your brain-boosting work on that puzzle, why not prepare some of your favorite fun snacks as your date night appetizer.
Select your favorite indulgences like yummy bread, pizza, or chips to enjoy while conversing while putting together a masterpiece. Choose some lovely relaxing background tunes, and the scene is set for a lovely romantic evening at home.
While holidays like Valentine's Day can be over the top, the positive of this candy-filled holiday is that it is an invitation to press pause and focus on each other. We should take every chance we get to invest into the love-filled relationships God has gifted us! Dedicate this evening to seeing and knowing each other better. It's essential work that we should not let life's busyness steal away from us.
Photo credit: ©Unsplash/Toa Heftiba
---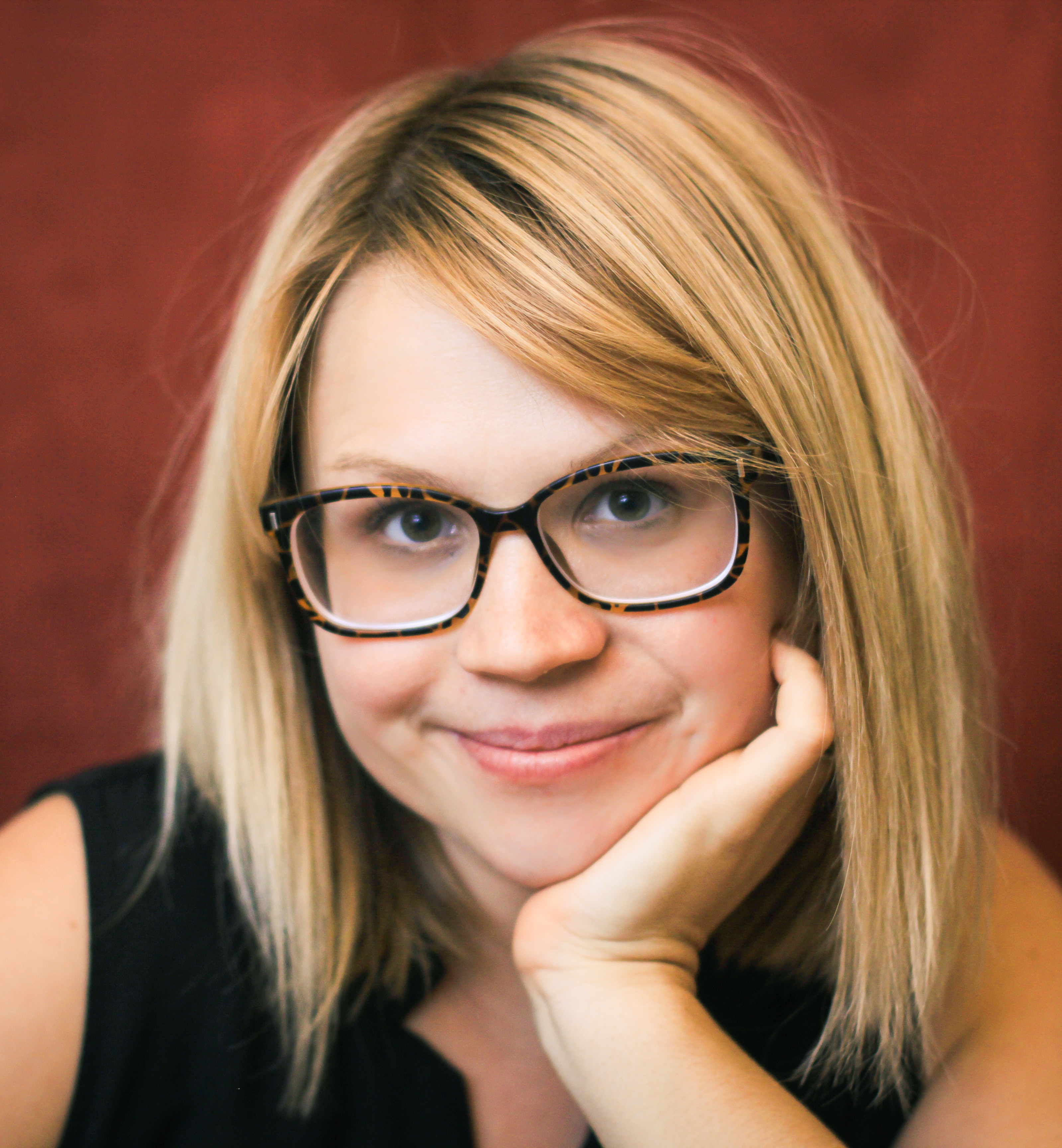 Amanda Idleman is a writer whose passion is to encourage others to live joyfully. She writes devotions for My Daily Bible Verse Devotional and Podcast, Crosswalk Couples Devotional, the Daily Devotional App, she has work published with Her View from Home, on the MOPS Blog, and is a regular contributor for Crosswalk.com. You can find out more about Amanda on her Facebook Page or follow her on Instagram.