5 Fall Activities for the Family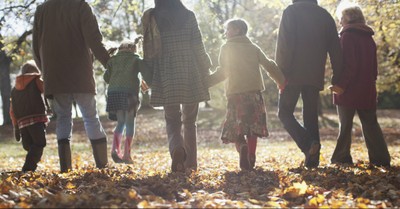 By Jaime Jo Wright, Crosswalk.com
It may be debatable whether a person likes warm weather over cold, but I've found very few will deny the absolute contentment that seems to come with the onset of autumn. Be it bonfires and s'mores, hot cocoa and a good book, cozy blankets and snuggles with the dog, or long hikes in the autumn woods, there is something about the crispness of fall that appeals. Perhaps it's because the world around us is preparing to fall into a routine and quiet from the summer's chaos into a more restful pace. Regardless, the season brings with it a whole litany of new activities for families to enjoy together while also enjoying the cool autumn nights and the sunshiny days that highlight the turning colors of the leaves.
With school in full swing, daytime activities will significantly diminish regarding family time. Free time becomes more restricted, homework rises to the forefront, and often bedtimes are moved up to accommodate the school schedule.
But this doesn't mean you can't still have fun as a family this fall and take advantage of the environment and the memory-making opportunities that autumn has to offer.
Here are a few ideas to get you started:
1. Apple Orchard or Pumpkin Patch
So it may not be the most unique idea, but I think we often discount the simple joy of visiting a local apple orchard or pumpkin patch. My family chooses the apple orchard where we can treat ourselves to caramel apples, apple cider doughnuts, apple pie, and apple cider. We may head home a few pounds heavier, but we're okay with that.
Often, places like these also have other elements designed to engage families. A pumpkin patch often offers hayrides, maybe a corn maze, pumpkin carving stations, and more. Typically, a pumpkin patch also offers other delicious fall garden goods like squashes, zucchinis, and canned goods made by local canners.
Look up your local orchards and patches and see what they have to offer besides just a grocery shop for fresh food. You may be surprised how much fun a couple of hours with the family at one of these spots will be. They're enjoyable for all!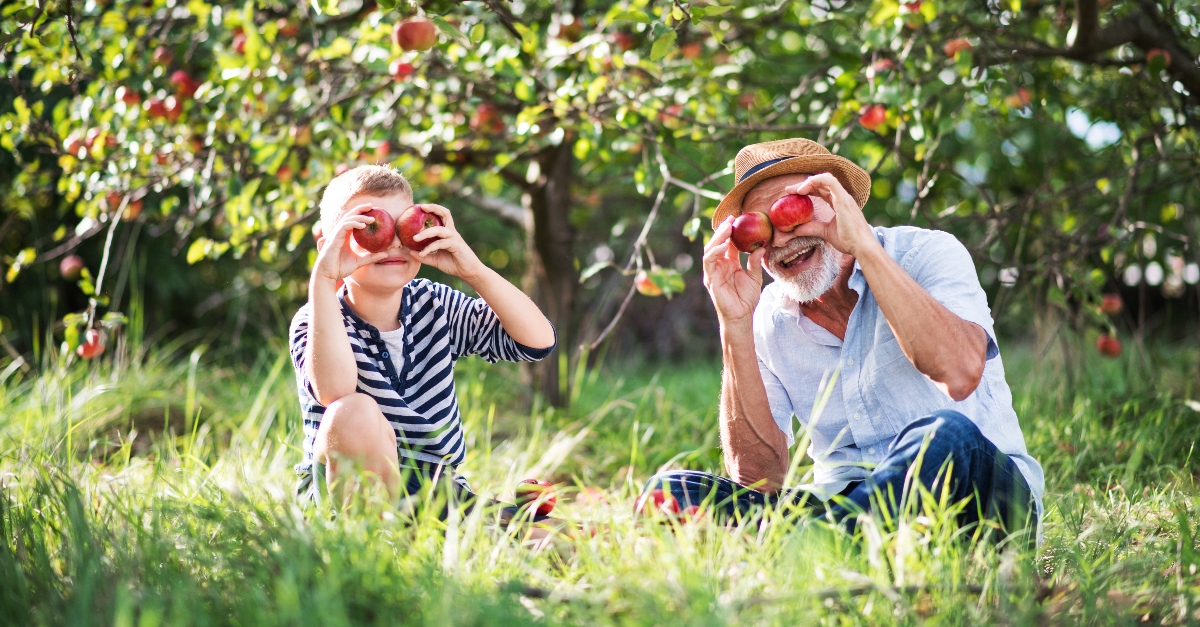 Photo credit: © Getty Images/Halfpoint
2. Waterfall Hunting
You'll want to be willing to drive a bit for this, and it may be a weekend mini-vacation, but there is something to be said about a nature treasure hunt. Take waterfall hunting, for example.
Most states have waterfalls hidden in their parks and forests. While they may not rival a tropical crystal beauty or the raging waters of Niagara, waterfalls in all sizes and depths are beautiful, especially when they're framed by the colors of autumn if you're in the tree-color-changing regions.
To make it a bit more exciting for the kids, bring along some digital cameras or cellphones and let them practice their artistic angles. Or, if they prefer, a sketchpad and pencil. You can log each waterfall as you find them, mark them off on a map, and even make a waterfall journal if you're really ambitious! And, be sure to check in with the park office when you're there. Ask what materials they may have available for kids! They'll often have scavenger hunt maps, hide-and-seek checklists for things to find while exploring nature, and so on. The kids will love it, and so will you!
3. Humane Helping
Did you know that a lot of Animal Humane Societies need dog walkers? It's true! And what better time of year to take a canine out to play than during the autumn when it's cool enough to enjoy the weather?
Call up your local humane society and see if they allow you to walk their dogs. No? There's a good chance they'll welcome your assistance at the shelter itself and caring for the dogs in their own outdoor yard. As a family, you can invest in the furry world with some TLC and, if you can take them for a walk, get your own exercise as well.
The only danger? You may also fall in love.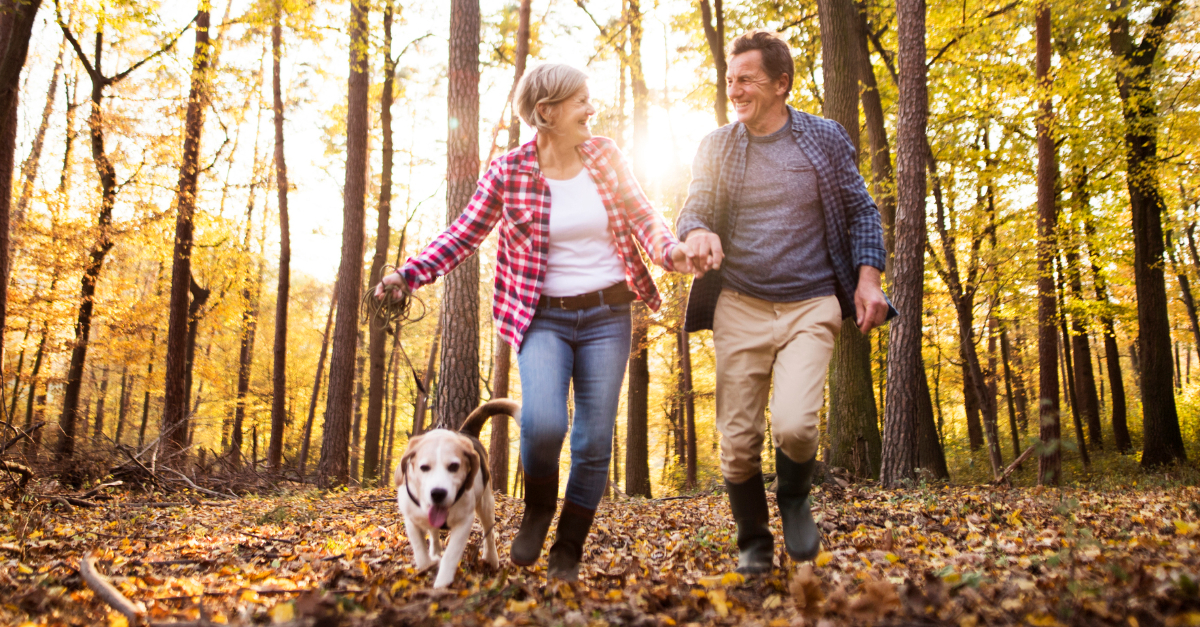 Photo credit: ©Getty Images/Halfpoint
4. Scarecrow Making
Back in the day, scarecrows were to serve the purpose their name implied. While we may be far less concerned with ridding our yards of crows these days, the fun is still in the making! Who said you have to wait until winter and snow? A scarecrow is a Fall version of a snowman, and in many ways, a lot more fun because you don't freeze and you don't get wet!
You can make life-size scarecrows or smaller, more manageable ones. The choice is yours, but the family can have lots of laughs the larger you go or lots of crafts the smaller you go. If you opt to go big, you'll probably need to round up some heftier bags of straw from the local farm supply store, or if you're short on those, see if the craft stores can get them in more bulk form. If you're looking for something less impressive, finding craft bags of straw isn't difficult, and the Internet abounds for instructions on how to make your own variety of scarecrows.
Remember, if you go big, you may also want to visit your local thrift store and get some creative outfits for your new brainless friend. Nothing is more fun than changing up the look and getting new smiles out of the kids as they head off to school in the morning.
5. Campfire Reads
Pick up an old classic like Treasure Island, filled with adventure, and plan for some Autumn evenings of family reading. Ideally, if you have a fire pit or a campfire, you can make hot cocoa and s'mores. But reading around the fire adds a lot of atmospheric ambiance, and if the book is equally as thrilling, it will be something both you and the kids remember for years to come.
Can't read by firelight? Pick up a book light or battery-operated lantern from your local camping store. Don't want to make a campfire—or can't? Make a living room fort out of a card table and chairs and blankets. Open the windows for the cool, fresh air, and crawl into the fort for some fun family reading. Who looks back with regret on the days an adult read with you as a child? Very few, if any, of us. Books transport us to a different world and include a cozy autumn season, and the connection will be made for your family for a lifetime.
The fun part about autumn is there is no shortage of things to do. Check your local Chamber of Commerce for the month's listing of community events. Often there are art fairs, fall festivals, and more. Or perhaps a local church or community farm is offering hayrides! Be on the lookout for those as well because nothing beats an autumn hayride.
In short, there are always opportunities, but you have to make the time. Focus on your family this fall, as winter lurks in the shadows. Make memories, build traditions, and explore. And always have a mug nearby for a hot beverage, some caramel corn for snacking, and a basket of apples to appease Mom's checklist for that healthy snack.
Photo credit: ©GettyImages/Sam Edwards
Jaime Jo Wright is an ECPA and Publisher's Weekly bestselling author. Her novel "The House on Foster Hill" won the prestigious Christy Award and she continues to publish Gothic thrillers for the inspirational market. Jaime Jo resides in the woods of Wisconsin, lives in dreamland, exists in reality, and invites you to join her adventures at jaimewrightbooks.com and at her podcast madlitmusings.com where she discusses the deeper issues of story and faith with fellow authors.
Parents: Need Help Navigating Our Crazy Culture with Your Kids? Listen to Our FREE Parenting Podcast!
Christian Parent/Crazy World with Catherine Segars is available wherever you listen to podcasts. Listen to our episode on battling for your kids in prayer by clicking the play button below:
The views and opinions expressed in this podcast are those of the speakers and do not necessarily reflect the views or positions of Salem Web Network and Salem Media Group.
Related video:
Are you in the trenches with your toddlers or teens? Read Rhonda's full article here!