3 Prayers for Family Members Who Leave the Faith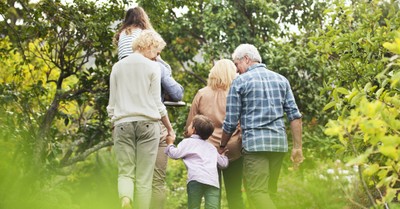 By Vivian Bricker, Crosswalk.com
It is extremely difficult to cope with events, such as a family member leaving the faith. I personally have not had any family members leave the faith, yet I do have some family members and extended family members who have never accepted Christ.
If you have had family members leave the faith, know that my heart goes out to you in this difficult season. Here are some prayers for family members who leave the faith to help support and encourage you.
If a family member has left the faith, it means they never belonged to it in the first place. The Apostle John tells us, "They went out from us, but they did not really belong to us. For if they had belonged to us, they would have remained with us; but their going showed that none of them belonged to us" (1 John 2:19).
As John tells us, since they left, they never really knew the Lord. While this can be heartbreaking, it is the truth. When a family member leaves the faith, it shows they never placed faith in Christ to begin with.
When we are struggling with the knowledge that our family member has left the faith, we can help by praying for them. Prayer is powerful and effective. A very important prayer we can pray for our family members who have left the faith is to pray for their salvation.
A sample prayer could be, "Lord, I know you work all things out for good. Could you please, Lord, help my loved one come to know you? They have left the faith, and they need help truly coming to accept you. I pray that they accept your wonderful gift of salvation. In Jesus' Name, I pray, Amen."
This is only a sample prayer, as you can craft the words in any way you want. The Lord wants you to be open and honest with Him. He isn't deterred by our feelings and emotions.
Without accepting Jesus as Savior and Lord, a person cannot receive salvation. Apart from Christ, there is no way to receive forgiveness of sins, eternal life, and the indwelling of the Holy Spirit.
This means if a person never accepts Christ in their earthly life, they will not be able to go to heaven when they die. Being "a good person" will not cause someone to go to heaven. The truth is that we are all sinners, and none of us are good (Romans 3:23).
Our goodwill never outweighs our bad. This is why we need the Lord because only He can provide forgiveness of sins and eternal life. Your loved one also needs to know the amazing grace of Jesus and accept His free gift of salvation in order to be saved.
2. Prayer for Guidance
A second prayer for a family member who leaves the faith is a prayer for guidance. Since your family member does not know the Lord, they will not be able to make decisions that bring glory to God.
Often, since they have newly left the faith, they will be rebellious and might engage in reckless activities and behavior. It is important during these times that we pray for our loved ones to have proper guidance from the Lord.
The sinful nature and the temptations of the world can lead a person down many wrong paths and engage in bad behavior. If you want to help your family member who has left the faith, pray for their guidance.
A sample prayer for your family member could be, "Dear Lord, please help my family member know Your will. Please, Lord, help them to be able to make the right decisions and to follow you. I know they are far from you, Lord, right now, but bring them back to You and bless them with guidance. I trust You, Lord. In Jesus' Name, I pray, Amen."
Again, with this prayer, feel free to use any words you desire to help your loved one best. God hears all prayers, and He answers them in accordance with His Will. God loves your family members even more than you do, and He will help guide them back to Himself.
Similar to the parable of the lost son, if a loved one comes back to the Lord and accepts Him, the Lord fully accepts them (Luke 15:11–32). He never pushes anyone away despite the life they lived before knowing Him.
When we think of ourselves before we knew Christ, we can acknowledge the fact that we weren't very good people. It is not until after we know Christ that we can see the severity of the sins of our life before Jesus.
We will all continue to sin after we know Christ, yet we will be better at acknowledging them, asking God for forgiveness, repenting, and turning away from sin.
No matter how far we thought we have gone or how many lines we have crossed, God still loves us and accepts us into His loving arms.
3. Prayer to Know God's Love
A third prayer for family members who leave the faith is the prayer for them to know God's love. More often than not, many people do not accept Jesus or leave the faith because they do not know God's love. God's love is not based on what we do or what we don't do. His love for us is ever-present and never changing.
The love God has for us extends any boundary lines. The Bible tells us, "This is how God showed his love among us: He sent his one and only Son into the world that we might live through him. This is love: not that we loved God, but that he loved us and sent his Son as an atoning sacrifice for our sins. Dear friends, since God so loved us, we also ought to love one another" (1 John 4:9-11).
God's love for us is shown in the sacrifice He made by sending His Son to die for our sins. There is no greater love than the love God has for us.
A sample prayer for family members could consist of "Dear Christ, please, Lord, help my loved one to know Your love. Please cause your love to surround them and fill their hearts with your love. My loved one is in a dark place now, and they need your love, Lord. Thank you, God. In Jesus' Name, I pray, Amen."
Similar to the first and second prayers, feel free to craft this prayer in a way that helps your loved one. Even if your family member hurts you when they leave the faith, don't hold bitter feelings toward them.
Instead, pray for God to fill them with His sweet and perfect love. God's love for us is amazing, perfect, and unending. The love He has for us can never fail, and we want our family members to know God's great love for them.
Thus, if your family member has left the faith, they are not without hope. Keep praying for them and direct them to the truth of the gospel and God's love for them.
Even at the darkest moments, God is with them, and He is gently calling them home to His open arms. Be consistent in your prayers for your family members who have left the faith because prayers can do amazing things, including helping your loved one come to Christ.
For further reading:
Is it True Once Saved Always Saved?
Why Is the Gate of Salvation Narrow?
Related Resource - FREE Faith Podcast!
Listen to our FREE faith podcast, Faith Over Fear! You can find all of our episodes on LifeAudio.com. Listen to our episode on bringing beauty from pain by clicking the play button below:
Photo Credit: ©iStock/Getty Images Plus/Lee Edwards
---
Vivian Bricker loves Jesus, studying the Word of God, and helping others in their walk with Christ. She has earned a Bachelor of Arts and Master's degree in Christian Ministry with a deep academic emphasis in theology. Her favorite things to do are spending time with her family and friends, reading, and spending time outside. When she is not writing, she is embarking on other adventures.