Tim Tebow Explains How to Listen to the Voice of Truth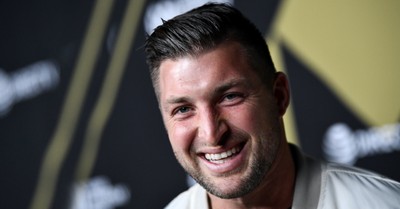 By Tim Tebow, Crosswalk.com
Burn the Ships
Blessed is a man who perseveres under trial; for once he has been approved, he will receive the crown of life which the Lord has promised to those who love Him. James 1:12 (NASB)
In 1519, Spanish conquistador Hernán Cortés set sail to the shores of Yucatán, Mexico. His eleven ships were filled with soldiers and sailors. Though they were markedly outnumbered, Cortés was intent on conquering the land from the Aztecs. Once every man was on shore, Cortés had the ships destroyed so his army had one of two options: conquer or die. Retreat wasn't part of the plan. Some historians believe the conquistador had the ships burned; others believe he had them sunk into the water.
While I'm certainly not hailing Cortés as a hero, this illustration speaks to the idea of steadfast commitment. Focusing on our mission, we must teach ourselves that retreat is not an option. Sure, it's normal to get unsettled when we hit a wall. It gets tiring praying for the same thing without seeing any movement. It's difficult when life gets in the way—and it often does. But rather than curling up with our phones in a dark corner, we must press on. Pause, pivot, and find a way to move forward. The worst thing you can do is give up because it's too hard. That's what perseverance in a mission-driven life looks like.
Don't look back; you're not going that way.
What ship do you need to burn to be obedient to what God is prompting you to go and do?
Listen to the Voice of Truth
Take care what you listen to. Mark 4:24 (NASB)
If there's one thing I learned early on playing football, it was that I couldn't live my life if I was constantly concerned about what other people were saying about me. There have always been people saying that I couldn't do something, along with my own doubting thoughts. But through it all, there's been only one voice that mattered. And I strive each day to try to hear Him loud and clear.
What voices call out to you as you try to live a life of purpose? Do they rehash past mistakes? Dredge up insecurities? Compare yourself to a teammate or colleague and announce how far you fall short? In those moments, instead of allowing the clamor of negative voices to hold your attention hostage, listen to the voice of truth. Listen to what the Creator says about you.
Sometimes the harder the climb to make your life count, the more tempting it is to tune in to negativity. But what God says about you is what matters most. When you feel less than or unequipped, listen to the voice of truth. I get that we can't hear God audibly, but there's no mistaking His voice in the pages of the Bible. Here are just a few things His Word says about you:
-You are a new creation (see 2 Corinthians 5:17).
-You are forever loved (see Romans 8:38–39).
-You are strong (see Psalm 18:32).
-You are forgiven (see 1 John 2:12).
-You are whole (see Colossians 2:10).
-You are created with purpose (see Esther 4:14).
Write down three more statements the Word of God says about you and speak them over yourself this week.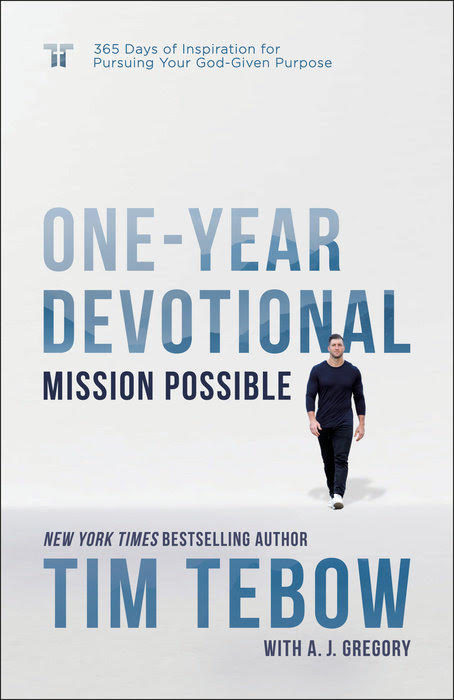 In his first devotional, Mission Possible One-Year Devotional (November 8, 2022, WaterBrook), New York Times bestselling author and athlete Tim Tebow challenges readers to find their mission and pursue a bolder, brighter, more fulfilling life—by building their faith every single day. Tebow knows a thing or two about living a "mission possible" life. The two-time national champion, Heisman Trophy winner, first-round NFL draft pick, former professional baseball player, and college football analyst reveals how readers can find their mission and take a step each day to reach their purpose and strive for their best future.
Through 365 Bible-based readings, readers will discover how to:
Align responsibilities, identify priorities, elevate their convictions, make decisive, wise choices, fuel drive and passion, and set their sights on eternity.
The secret to a truly meaningful life doesn't involve more comfort or ease. It requires a clear focus on who God made each person to be and a proven guide to get you there.
"My hope for you is that you begin to live your life with a deeper sense of purpose, meaning, and significance than ever before and make your life count," says Tebow. "Today, you can begin to live your life on a trajectory that sets you up to accomplish feats of eternal purpose."
For those who may feel overwhelmed by the size and scope of a mission they are called to, Tebow assures them that "mission possible" living doesn't depend on the completion of large goals. "You just do what you can with what you got," he encourages.
Tim Tebow also created a devotional book for young readers: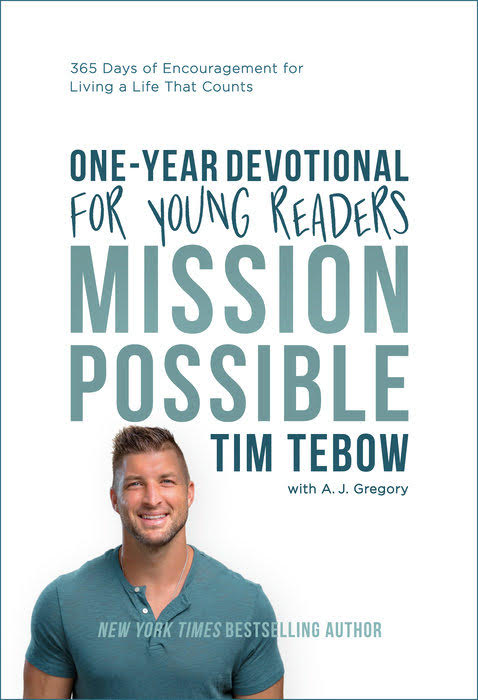 Tim Tebow, a two-time national champion, Heisman Trophy winner, first-round NFL draft pick, former professional baseball player, and bestselling author, has spent his entire life beating the odds and achieving the impossible. His new Mission Possible One-Year Devotional for Young Readers (November 8, 2022, WaterBrook) will show young readers how to pursue their big dreams with God every day of the year!
Many young people wonder if God really has a plan for their life and often ask questions like: What difference can I make? Does anything I do really matter?
Through 365 daily readings, Tebow will encourage young readers to:
-Understand their God-given identity
-Change their M.I.N.D.S.E.T
-Give God their pain
-Make wise choices
-Do hard things
Life can be hard, and it can be tempting to settle for the path of comfort, ease, and conformity—to do as you're told, be like everyone else, and lower your expectations. But God has other plans! A future of meaning and purpose awaits, and Tebow is ready to help young readers step into it. "I hope you see the limitless potential of opportunity that awaits when you surrender to God and begin to live mission possible," says Tebow.
Photo credit: ©Getty Images/Dimitrios Kambouris/Staff
Photo credit: WaterBrook & Multnomah
Tim Tebow is a two-time national college football champion, Heisman Trophy winner, first-round NFL draft pick, ESPN contributor, and former professional baseball player. He is the author of Mission Possible: Go Create a Life That Counts along with four New York Times bestsellers including This is the Day, Shaken and Bronco and Friends: A Party to Remember. His second children's book, Bronco and Friends: Mission Possible will be released by WaterBrook on April 12, 2022. Tim's true passion remains the work of the Tim Tebow Foundation (TTF) which he began in 2010. The foundation's mission is to bring Faith, Hope, and Love to those needing a brighter day in their darkest hour of need. Tim is married to Demi-Leigh Tebow, (née Nel-Peters), a South African model, speaker, influencer, entrepreneur, and Miss Universe 2017. Tim and Demi live in Jacksonville, Florida, with their three dogs, Chunk, Kobe, and Paris.