5 Christian Historical Fiction Reads for This Autumn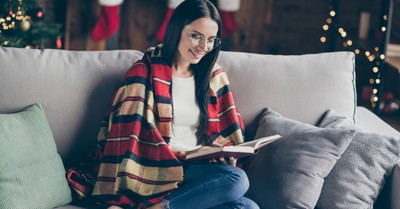 By Jaime Jo Wright, Crosswalk.com
Autumn brings out that desire in almost all bookworms to curl up with a snuggly blanket, fuzzy socks, a hot cup of their favorite drink, and a good book. If you're a reader, you probably have your preferred genre that is your go-to for these moments. Were you aware of the broad range of Christian fiction available on the market today? Covering almost every genre, authors have created a massive collection of stories that avid readers can get lost in. One of the most popular is Historical Fiction. Perhaps it's because readers enjoy getting lost in ancient times, but regardless, these stories transport you to events, places, and even into the lives of historical icons.
This fall, you'll want to check out the fabulous historical fiction novels hitting the shelves, and even some oldies that you won't want to forget!
1. The Lines Between Us – Amy Lynn Green, Bethany House Publishers
After her debut novel, Ms. Green has continued to foray into the time period of World War II with a unique writing voice that captivates and reminisces. The Lines Between Us visits places of the war that many of us aren't familiar with. The nuances between its pages will shock and inspire you as we learn of the heroines and heroes who all played their parts in preserving our American freedoms.
About the book (according to An Open Book): After Pearl Harbor, sweethearts Gordon Hooper and Dorie Armitage were broken up by their convictions. As a conscientious objector, he went west to fight fires as a smokejumper while she joined the Army Corps. When a tragic accident raises suspicions, they're forced to work together, but the truth they uncover may lead to an impossible--and dangerous--choice.
2. A Warrior's Heart – Misty M. Beller, Bethany House Publishers
Another great novel to cover more obscure historical settings joins Evan and Brielle as they traverse the tentative grounds of a new nation during the War of 1812. Readers will enjoy learning not only about the American perspective but also the French-Canadian. War was never cleanly split between two sides, and as readers enjoy a romance threaded through this historical setting, they'll also discover that every story must be told.
About the book (according to Crackians.com): On assignment to help America win the War of 1812, Evan MacManus is taken prisoner by Brielle Durand--the key defender of her people's secret French settlement in the Canadian Rocky Mountains. But when his mission becomes at odds with his growing appreciation of Brielle and the villagers, does he dare take a risk on the path his heart tells him is right?
3. The Ice Swan – J'nell Ciesielski, Thomas Nelson
Enter the Russian Revolution and the Great War as 1917 becomes the backdrop for this novel by J'nell Ciesielski. And who doesn't love the story of a Russian princess, a Scottish hero, and a marriage of convenience? But don't be alarmed. If romance isn't your passion, you'll also be swept into the intrigue of the Russian/Parisian underground, enemies hunting them, and the influence of World War I in all its dark and shadowy mysteries.
About the book: Amid the violent last days of the glittering Russian monarchy, a princess on the run finds her heart where she least expects it. 1917, Petrograd.
4. Wedded to War – Jocelyn Green, River North Publishing
Published in 2012, this novel is the first in a series of Civil War dramas that will take you deep into the war that split a nation in two. Jocelyn Green's writing is rich with historical research, deep characters that will challenge your thoughts and hearts regarding the dynamics of the time period, and literary prose that will satisfy almost every historical fiction reader's desires. This book highlights the role of women during the Civil War and the restrictions that threatened to hold them back from fulfilling a necessary and critical place in history.
About the book (according to Moody Publishers): When war erupted, she gave up a life of privilege for a life of significance. Tending to the army's sick and wounded meant leading a life her mother did not understand and giving up a handsome and approved suitor. Yet Charlotte chooses a life of service over privilege, just as her childhood friend had done when he became a military doctor. She soon discovers that she's combatting more than just the rebellion by becoming a nurse.
Wedded to War is a work of fiction, but the story is inspired by the true life of Civil War nurse Georgeanna Woolsey. This is the first in the series Heroines Behind the Lines: Civil War, a collection of novels that highlights the crucial contributions made by women during times of war.
5. The Lost Lieutenant (Serendipity & Secrets) – Erica Vetsch, Kregel Publications
Do you love the era of Downton Abbey and Pride and Prejudice? Become a voracious reader of Regency-era fiction with the first in a trilogy offered by prolific and talented author Erica Vetsch. Meet a troubled hero from the Napoleonic War and couple him with a royally arranged marriage, and you have nothing but pride, pomp, and propriety in this romantic dance into an English world that so many readers love to gather.
About the book (according to Erica Vetsch): He's doing what he can to save the Prince Regent's life, but can he save his new marriage as well? Evan Eldridge never meant to be a war hero--he just wanted to fight Napoleon for the future of his country. And he certainly didn't think that saving a peer's life would mean being made the Earl of Whitelock. But when the life you save is dear to the Prince Regent, things can change in a hurry. Now Evan has a new title, a manor house in shambles, and a stranger for a bride, all thrust upon him by a grateful ruler. What he doesn't have are all his memories. Traumatized due to his wounds and bravery on the battlefield, Evan knows there's something he can't quite remember. It's important, dangerous--and if he doesn't recall it in time, it will jeopardize not only his marriage but someone's very life.
Historical novels abound in the Christian book market. You'll definitely want to check out a litany of other fabulous historical authors like Laura Frantz, Jody Hedlund, Karen Witemeyer, Liz Tolsma, Jen Turano, and Kimberley Woodhouse. If history is your reader's pleasure, there is something for almost every time era! And, we can't forget Biblical historical reads too by authors: Connilyn Cossette, Mesu Andrews, and Tessa Afshar.
Who said we couldn't disappear into history? And who says we can't do it sans all the sex, gore, and language that many of us have grown weary of as we search our bookstores and libraries for great reads. You can find good reads from clean publishers who want to offer uplifting fiction and some with a powerful faith message. Good publishers to keep on your "watch list" are: Bethany House Publishing, Revell Publishing, Barbour Publishing, Kregel Publishing, Thomas Nelson Publishing, and the list continues. In the end, there are only a few things you need on your list to prepare to curl up with one of these great historical reads: A blanket, sweater, a cup of coffee (or tea/cocoa), and maybe your favorite furry side-kick. Because you'll be there for a while when you open the pages of these novels; your family may need to prepare to eat cereal for dinner!
Photo credit: ©Getty Images/Deagreez
Jaime Jo Wright is the winner of the Carol, Daphne du Maurier, and INSPY Awards. She's also the Publishers Weekly and ECPA bestselling author of three novellas. The Christy Award-Winning author of "The House on Foster Hill", Jaime Jo Wright resides in the hills of Wisconsin writing suspenseful mysteries stained with history's secrets. Jaime lives in dreamland, exists in reality, and invites you to join her adventures at jaimewrightbooks.com!